Stretch your legs according to your coverlet.
English Proverb
Peace is not merely a distant goal that we seek, but a means by which we arrive at that goal.
Martin Luther King JR.
ManageBetter store
Become a member

BITS & PIECES has been inspiring people for over 35 years. Many of our readers have asked if we would put all this good advice into one volume so they can mark their favorite parts and refer to them quickly and easily.
I hope they're still making women like my momma. She always told me to do the right thing. She always told me to have pride in myself; she said a good name is better than money.
JOE LOUIS (1914–1981)
Heavyweight champion
IN HIS 76 YEARS, Mike King accomplished a great deal. As an Irish farm boy he overcame tuberculosis and immigrated to the United States. King married, established himself in real estate, and raised six children. Toward the end of his life, King penned his memoirs though he said he didn't know how to end the…
DONNA LAMONACO'S HUSBAND PHIL, a New Jersey state trooper, was violently killed in the line of duty. Though her children were devastated over losing their father, Donna was determined that this wouldn't destroy their faith in humanity. So she involved them in her work on the national memorial fund for families of murdered police officers,…
If we could sell our experiences for what they cost us, we'd all be millionaires.
ABIGAIL VAN BUREN
Advice columnist
Bits & Pieces has been inspiring people with its wit, wisdom, and memorable quotations for more than 40 years. Readers consistently ask if we would put all this good advice into a large-print volume—to make it easier for them to read and mark their favorite passages. So we've taken their advice. Currently we have 7…
ManageBetter store
Starting out: Quotes to inspire your success
Price: $14.95*
You've crossed a bridge, but your journey is just beginning. The path before you is paved with uncertainties, trials, triumphs and achievements. Somewhere beyond the horizon is your future…
Starting out (cover image)
This new book, Starting out: Quotes to inspire your success, brings you quotes for the high school graduate, the college graduate, or anyone beginning anew.
You get ideas on learning, dreams, goals, success and the journey.
The beginning is the half of every action.
Greek Proverb
Whether you're entering the job market, starting your own business or trying something new, this is a great way to encourage that first step.
*Plus shipping & handling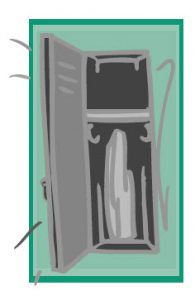 ONE DAY AT THE AUTO SHOP I work at, we had nothing but trouble. First my coworker, Ted, and I found that we'd ordered the wrong part to repair a car. Then some of our equipment broke down. And to make matters worse, at closing time we discovered the cash register was short by $50!…
Human beings are works in progress that mistakenly think they're finished. Dan Gilbert Isaac Stern, the famous violinist, once ran into boxer Muhammad Ali at a party. To start a conversation, Stern said, "You might say we're in the same business. We both make a living with our hands." "You must be pretty good," replied…
Many of us have created lives that give very little support for experimentation. We believe that answers already exist out there, independent of us. What if we invested more time and attention to our own experimentation? We could focus our efforts on discovering solutions that work uniquely for us.
Margaret Wheately
One great object of the Constitution was to restrain majorities from oppressing minorities or encroaching upon their just rights. James Polk Those who trust to chance must abide by the results of chance. Calvin Coolidge Piling up material goods cannot fill the emptiness of lives which have no confidence or purpose. Jimmy Carter One cool…
Anger is the only thing to put off till tomorrow.
SLOVAKIAN PROVERB
THOUGH HE'S BETTER KNOWN for writing epic novels like War and Peace, Russian author Leo Tolstoy spent many years compiling and writing motivational quotes. Late in life Tolstoy published his extensive collection, providing readers with a selection of thoughtful ideas for every day of the year. Here's some of the best from Tolstoy's A Calendar…
THE ART OF TEACHING
Tell me, I'll forget. Show me, I may remember. But involve me, and I'll understand.
CHINESE PROVERB
ManageBetter store
COPING WITH LOSS: From Heartache to Healing
Losing someone dear to us is part of life. Yet how often when friends, relatives, or coworkers are struggling with someone's passing are we unable to find the words to adequately express our sympathy or provide comfort? That's why we created Coping With Loss: From Heartache to Healing.
Each volume in this three-book set is a nondenominational collection of varying perspectives on the grieving process. Coping With Loss: From Heartache to Healing includes quotes, prayers, stories, and insights from people all over the world who have suffered through a loved one's death or who have come to the aid of someone in mourning.
Click on the links below to view sample pages from each volume included in the set. Inside, you'll see expressions of every emotion from anguish to renewal spanning cultures and centuries. Some will mirror your own perspective; others may challenge your beliefs. But somewhere every reader will come across a special passage that illuminates their personal experience of loss.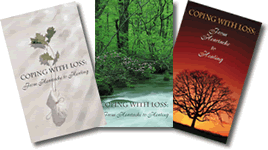 Sample pages (PDF):
Volume 1 | Volume 2 | Volume 3
These books each one between 22 and 26 pages are small enough to include in a sympathy card and readers can keep the collection close at hand (in a pocket or purse) for a quick dose of comfort when needed. And the books don't have to be read cover to cover to glean something useful from them. The material is organized in a way that allows each reader to easily search for a message that seems most appropriate at the time.
Volumes may be purchased individually or as part of a set. For specific pricing information call one of our representatives at 800.878.5331; they will review the options with you or send you a sample copy for further consideration.
We sincerely hope that Coping With Loss: From Heartache to Healing helps you ease the sorrow of a grieving friend or relative, or provides you solace for your own loss.
ManageBetter store
Lessons from the Workplace: Common sense leadership and practical management
$19.95 ORDER NOW
Motivation is everything. You can do the work of two people, but you can't be two people. Instead, you have to inspire the next guy down the line and get him to inspire his people.
Lee Iacocca, automobile executive
In Lessons from the Workplace: Common sense leadership and practical management, you'll find other motivational quotes and stories to help you be a better leader.
Lessons from the workplace
You'll find inspiring stories on how to:
Be a coach, not a hero
Speak up and keep up
Give credit where it's due
Lead by giving up the ball
Put your mind to it
Communicate effectively in 9 ways
Plus! Quotes from executives and managers including:
NAACP
American Express
Bank of America
And more!
This new book offers common-sense leadership and practical management in a concise, easy-to-read, collection of executive experience designed to help you benefit from the hard-won success of others.
Lessons from the Workplace delivers quotes, stories and common-sense examples to clearly illustrate how to become an effective leader. It entertains, motivates and offers valuable insights into the art managing employees, working with colleagues and getting along with people.
ManageBetter store
The Best of BITS & PIECES

Edition: Leather-Bound
Price: $49.95 plus shipping
A LITTLE BOY SAT IN THE KITCHEN with his grandmother while she prepared cake batter. As they talked, the youngster talked about how "yucky" everything in his life was. School was yucky. Soccer was yucky. Even Mommy and Daddy were yucky. Grandma listened closely to his tales of woe. Then she asked if he'd like…